Prayer Profile
The Bagirmi Fulani
of The Central African Republic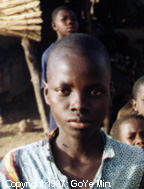 The Bagirmi Fulani are a subgroup of the much larger Fulani people group, who are located throughout much of West Africa. Many centuries ago, the Fulani tribes migrated from northern Africa and the Middle East into Central and West Africa. They are located in an almost horizontal strip across Africa.
Most of the Fulani are nomadic shepherds who travel with their flocks, searching for better grazing land. The Sahara Desert forms their northernmost boundary, while the cattle-attracted tsetse flies (African bloodsucking flies) limit their movement to the south. Their tribes are grouped and named according to their locations, occupations, and dialects. The Bagirmi Fulani live in the Bagirmi region of Chad, as well as parts of the Central African Republic. They have lighter skin, thinner lips, and straighter hair than other African groups, which suggests that they are of Caucasian origin. They speak Bagirmi Fulfulde, a Niger-Congo language.

What Are Their Lives Like?
The Bagirmi Fulani are semi-nomadic, mixing farming with shepherding. Although some Fulani tribes (such as the Bororo) travel seasonally with their flocks, the Bagirmi have a permanent home they live in for half of the year. They only travel during the dry season, when grazing lands and water are scarce. One reason the Bagirmi Fulani have become more settled than the purely nomadic Bororo, is the need to keep other farmers from encroaching on their land. The Bagirmi Fulani can move whenever they want, while paying family members and laborers to tend their home vegetable gardens. This allows them to reap the economic rewards of both shepherding and farming. Alternatively, the young married sons take the cattle in search of greener pastures, the head of the family—together with his wives, their young children, and a small herd—stay home and care for the crops.

Extended families usually live in the same village, forming a compound. Many of the men have multiple wives. Since cattle are a symbol of wealth among the Fulani, brides are sometimes chosen because of the amount of cattle they own.

Pearl millet and sorghum are their staple crops. They also raise corn, beans, peanuts, melons, and cucumbers. Wild rice is gathered from the fields by the women. A few animals such as horses, sheep, goats, chickens, and dogs also live on the farms.

Dairy products are traded in the markets for such things as grain, farm equipment, and cloth. The market also serves as a place for social gatherings, dances, and traditional Fulani ceremonies.

What Are Their Beliefs?
The Fulani were one of the first people groups in Africa to be converted to Islam. Today, the Bagirmi are 99.9% Malikite Muslim.

The Bagirmi still hold on to many old Fulani traditions. They believe that family, cattle, strong morals, beauty, poetry, singing, and dancing are the most important things in life. Religious ceremonies are held to celebrate the birth of a firstborn son. Rituals are also held for the naming of a son seven days after his birth.

To the Fulani, children are the future. They do not believe in an afterlife, so children are the only means by which they can live on from generation to generation. They believe that through their sons, their names and features will remain. If a Fulani dies with no children, it is as if he dies twice.

What Are Their Needs?
The Bagirmi Fulani of the Central African Republic have portions of the New Testament written in the Fulfulde language, the Jesus film is available to them, and some local Christian broadcasts are being aired. One missions agency is also currently targeting this group. Unfortunately, research indicates that these efforts have not been very successful. Today, there are only eight known Bagirmi believers among the more that 40,000 Bagirmi in this region. Islam is a powerful stronghold that can only be broken down through prayer. More laborers and increased prayer efforts are desperately needed to reach the Bagirmi with the Gospel of Christ.

Prayer Points
Pray against the spirit of Islam that has kept the Bagirmi Fulani bound in spiritual darkness for many generations.
Ask God to raise up prayer teams who will begin breaking up the soil through worship and intercession.
Pray for God's wisdom and favor to surround the missions agency targeting the Bagirmi.
Pray that God will strengthen, encourage, and protect the eight known Bagirmi believers.
Ask the Lord to give these new converts a vision to share Christ with their own people.
Ask the Holy Spirit to soften the hearts of these precious people to the Gospel message.
Pray that God will begin revealing Himself to the Bagirmi Muslims through dreams and visions.
Ask the Lord to raise up strong local churches among the Bagirmi Fulani.
---
Statistics
Latest estimates from the World Evangelization Research Center.

THE PEOPLE
People name: Bagirmi Fulani
Country: Central African Republic
Their language: Fulfulde (Peul)
Population:
Largest religion:
Christians: <1%
Church members: 8
Scriptures in their own language: New Testament
Jesus Film in their own language: Available
Christian broadcasts in their own language: Available
Mission agencies working among this people: 1
Persons who have heard the Gospel: 9,500 (23%)
Persons who have never heard the Gospel: 31,800 (77%)
THEIR COUNTRY
Country: Central African Republic
Population:
Major peoples in size order:
Major religions:
Number of denominations: 18
---
© Copyright 1997
Bethany World Prayer Center
This profile may be copied and distributed without obtaining permission
as long as it is not altered, bound, published
or used for profit purposes.